Lee Heidhues 2.27.2022
Ominously, Vladimir Putin has put Russia' vast nuclear arsenal, ON ALERT.
According to the International Atomic Energy Agency, the Russians have 5977 nuclear weapons deployed across the Triad system, bombers, land based and submarine based missiles. 90% of targets for these weapons lie within the United States, though retargeting can be accomplished.
Gustav Holst wrote his classic Symphony The Planets between 1914-1917 during World War I. The opening piece of The Planets is 'Mars. The Bringer of War'.
World War I – A catacylsmic war which began after the June 1914 assassination of Archduke Franz Ferdinand of Austria in Sarajevo in what is now the political, financial, social and cultural center of Bosnia and Herzegovina.
World War I began later that year and lasted from 1914 until late 1918.
World War I resulted in hundreds of thousands of deaths throughout Europe.
A War into which the United States entered in 1917. World War I resulted in the overthrow of the Czarist regime, ushered in the Bolshevik government in Russia and laid the groundwork for the Nazis who took power in Germany in 1933.
Today in The Ukraine we are witnessing this horrific cycle of violence being played out, again. Russian strongman Vladimir Putin is claiming with no evidence whatsoever that Ukraine is a Nazi State and his goal is "de-Nazification."
Excerpted from Deutsche Welle 2.27.2022
Since the first tanks rolled into eastern Ukraine early on February 24, 2022, Russia has intensified its attacks across Ukraine. Explosions and shellings have been reported in several major cities, including the capital Kyiv. The city of three million people has suffered significant damage but has so far managed to hold off Russian advancements.
This map shows the locations of verified attacks in Kyiv over the past three days and territory that has come under Russian control..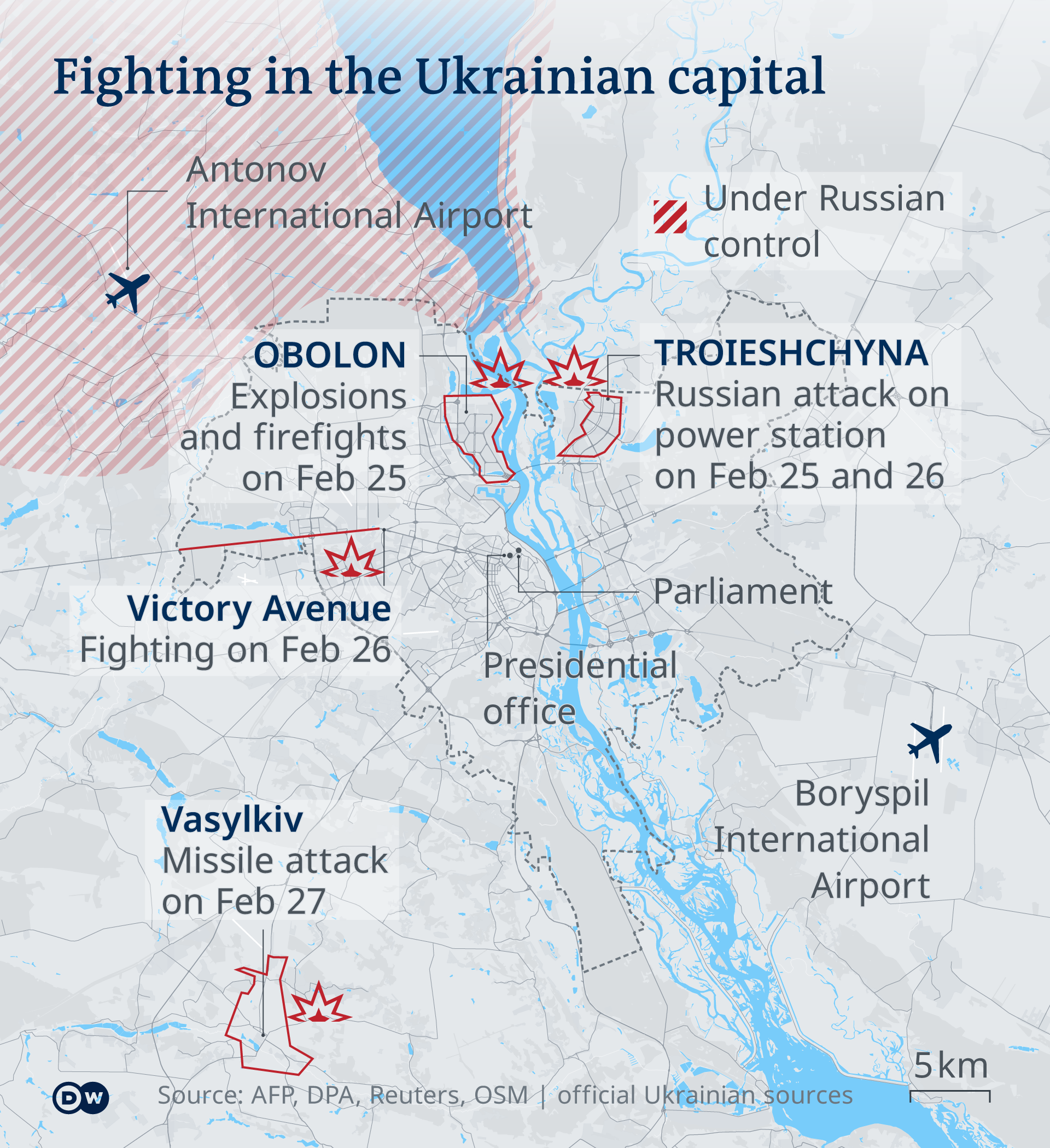 Russian attacks on Kyiv on February 25, 26 and 27, 2022
Russia's military power is superior to Ukraine's in virtually every way — on land, at sea and in the air.
Ukrainian President Volodymyr Zelenskyy on Thursday signed a decree on the general mobilization of the population. Conscripts and reservists will be called up over the next 90 days to "ensure the defense of the state, maintaining combat and mobilization readiness." All men between the age of 18 and 60 are prohibited from leaving the country. Meanwhile,Germany reversed its position on sending weapons to Ukraine.

Russia outnumbers Ukraine in personnel, equipment and weapons
Shortly after the attacks began, traffic jams started forming on arterial roads leading towards Ukraine's western neighbors. People were leaving Ukrainian cities in droves. According to media reports, more than 100,000 people have already packed their bags and left their homes, thousands more have fled abroad. Their only option is overland, heading west and south-west. Germany is also preparing for an influx of Ukrainian refugees.
https://www.dw.com/en/russias-invasion-of-ukraine-in-5-graphics/a-60909241